Grab some popcorn and enjoy every second as Tyson Fury and Deontay Wilder complete their trilogy on Saturday night.
The impressive T-Mobile Arena in Las Vegas is the stage for the heavyweights to trade leather — and Fury is in no mood to surrender his WBC title or unbeaten record.
With his ego understandably still bruised from suffering the first defeat of his pro career, Wilder insists he has nothing to lose and everything to gain from what many believe will be an all-out war.
More of the same
Before the duo's final press conference on Wednesday ended without a traditional pre-fight face-off, Fury declared: "I absolutely obliterated him in the rematch. He didn't even win any of the rounds.
"In this third fight, I just see much more of the same. I hope you've got your excuse book ready, dosser!"
After their first fight ended in a draw in December 2018, Fury secured a seventh-round stoppage in the rematch to claim the gold — just weeks before the coronavirus pandemic brought the world to a halt.
Wilder was saved from further punishment in that second bout in February 2020 by trainer Mark Breland's decision to throw in the towel — a move that resulted in the cornerman being sacked and replaced with Malik Scott.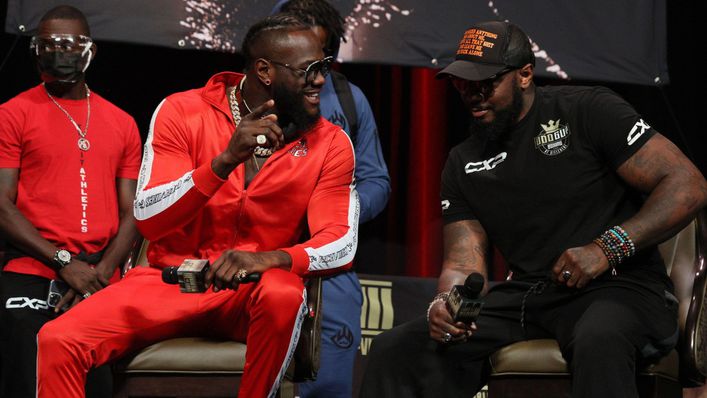 The Bronze Bomber made several claims after the fight, from his ring-walk costume being too heavy to his opponent's gloves being tampered with, that angered the Gypsy King.
And Fury, who never needs an excuse to tell it how he sees it, has vowed to make the American pay the price for running his mouth.
The Brit, 33, said: "You're in denial and you're getting knocked out. Do yourself a favour and retire from boxing. Your legacy is in bits.
"Even all your excuses have been destroyed. He accused me of everything… accused his team, trainer, the suit [he wore on the way to the ring], injuries, the Athletic State Commission of Nevada, the ref.
"Maybe if he had come out with one excuse it might have been believable. What it tells me is he is a weak person who I am going to knock spark out on Saturday night.
"Wilder said I only won the second fight because I cheated but then he changes his whole team, trains as hard as he ever has.
"If I only won because I cheated, what was the point of changing everything? After this fight, you will be back at the fast-food chain you were working at early in your career."
Out for revenge
Make no mistake, Wilder is a wounded animal — and Fury will be aware he has to be on top of his game on Saturday night.
Firing back at the Gypsy King's taunts about his reasons for losing last year, the 35-year-old heavy-hitter said with a touch of menace: "My energy is like my mind, very violent.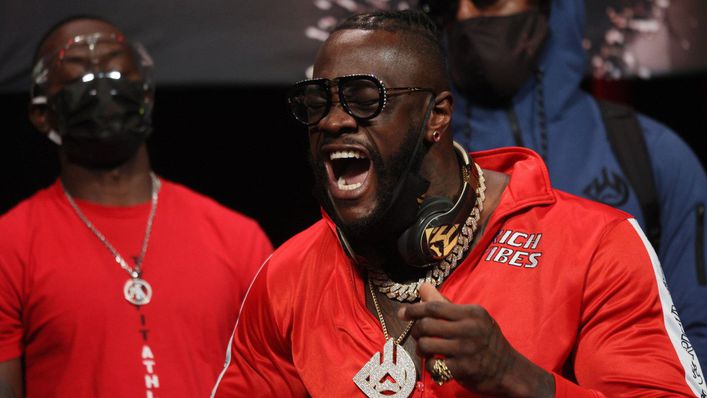 "They say the truth will set you free. I have no pressure, there is nothing to lose, everything to gain. I will go to my grave believing in what I believe in.
"People can believe what they want but the eyes don't lie and it only made me better as a man to see certain facts — it made me hungrier than before.
"I wouldn't take it back, I needed it, it was a blessing in disguise.
"My family have an understanding, my children have an understanding, that daddy has a dangerous job. No other sport has claimed as many lives as boxing, they understand."
What the experts think
As Fury openly admits, Wilder can end in a fight in a second by detonating an explosive right hand.
But former WBC world heavyweight champ Frank Bruno is convinced his fellow Briton will deal with anything thrown at him.
Bruno said: "I think Tyson won't just beat him again — he's a much better boxer than Wilder — he'll school him.
"Fury will be going in heavier than Wilder and, if he boxes smart and wears him down, that will make a big difference.
"You have to be wary of Wilder's windmill punch. He's got a big punch, not much else, but you have to give him a puncher's chance.
"As long as Tyson doesn't get involved with this guy… he's a very dangerous puncher. Don't get stupid. This guy's got pure power but nothing else.
"I think Tyson's got it under control. I hope so. I think he will knock him out."
While Bruno appears supremely confident, David Haye has urged Fury to be careful.
The former cruiserweight king and WBA world heavyweight champ said: "Wilder seems like he's got a massive point to prove. Fury feels like he just wants to get in there and get him out of the way.
"It's a bad energy to have going into a fight. He needs to realise this is the biggest fight of his life.
"Wilder wants to prove to the world that he's better than people think he is. Fury, on the other hand, he's had a lot of issues that have distracted him from being in the gym and training.
"That's completely understandable, but putting all these things together, it'll make for a cracking night."
What's next?
Regardless of how the fight plays out, you will not want to miss a single punch as the action unfolds in Sin City.
The winner will have the opportunity to become the undisputed world heavyweight champ by locking horns with Oleksandr Usyk.
But with the WBA Super, WBO and IBF title-holder first expected to face Anthony Joshua in a contracted rematch after dethroning him last month, whoever emerges with the WBC belt is likely to face a mandatory defence next.
And that could well come in the shape of Dillian Whyte, who will finally receive an overdue shot at the famous green and gold championship if he overcomes Otto Wallin on October 30.
Support BSN Sports We Need Your Support To Produce Excellent Sports Reportage At All Times. Kindly Donate To Help Ease Our Tasks. Account number: 0562950822 Account name: BSN Sports Concepts GTB
Copyright©2021 bsnsports.com.ng All rights reserved. This material and any other digital content on this platform may not be reproduced, published, broadcast, written or distributed in full or in part, without written permission from our management. This site is not responsible for the content displayed by external sites